Our beloved local Festival received a grant from CORRA Foundation, to combat social isolation of vulnerable groups due to Covid-19, developing and delivering a program of creative activities.
Our activities include:
Campsie Fest Crafts
Dance Tutorials with Lorraine
Art Tutorials with Mark Mulholland
Qigong with David Yue
Get Fit with Tina
Writing workshop with Claire Miller
How to Play the Violin with Catherine James
Various Techniques of Singing with Lydia De Rosa
Free Creative Photography Lessons for 50+
Check out our extended program of creative activities, by clicking on each section!
Campsie Fest Crafts
Another one of our creative activities that we are running is our Campsie Crafts series. This series is made up of videos of simple crafts that can be made by people of all ages!
Check out our Campsie Fest Crafts series by clicking on the videos below:
Dance Tutorials with Lorraine
As part of our extended creative events program, Campsie Fest has teamed up with Lorraine McDonald from Lorraine McDonald School of Dance to offer a couple of dance tutorials (Musical Theatre and Commercial/Freestyle).
A big thanks to Lorraine for making these tutorials for us and to the dance school for supporting Campsie Fest over the years by participating in our Mayfest Young Performers Concert!
The dance school have dance classes on Saturdays in Milton of Campsie Village Hall for pre-school and primary children (baton, ballet, tap, freestyle, cheer) as well as an adult tap class.
Check out the fab dance tutorials below:
Art Tutorials with Mark Mulholland
We are incredibly happy to announce that as part of our extended Campsie Fest programme, we will be posting a series of art tutorial videos with award-winning Kirkintilloch artist Mark Mulholland!
Mark has over 18 years of art teaching experience, is a seasoned art educator and award winning professional artist. He has shown his artwork in various high-profile art exhibitions and competitions and has recently appeared on Sky Arts Portrait Artist of the Year 2020.
Check out Mark's art tutorials below!
Find Mark:
Qigong with David Yue
David Yue has practiced Qigong for many years for leisure and by sharing this exercise with you he hopes everyone will stay active and healthy. Breathing and posture is very important in this exercise and be sure to take deep long breaths throughout the exercise and focus on the balance and energy in the body.
Qigong can harmonize, strengthen and have a healing effect on the functioning of all the internal organs and bodily systems. It is believed with daily practice it can increases the supply and flow of energy throughout the body and a variety of rejuvenating effects, it is also believed to increase longevity, and induces calm mental and emotional states.
Let the art of movement bring us to health.
Get Fit with Tina
Let's get active with Tina Fraser, with 25 years of experience in helping people from all walks of life into fitness physically and mentally.
She has tailored 3 fitness programs to suit different abilities: –
Seated fun mobility

Easy Aerobics

Body conditioning
So whether you feel comfortable doing simple stretches or up for a challenge getting active and fit is the main goal, if at any time you feel unwell feel free to rest and drink some water.
Check out Tina's exercise videos below! More videos to follow.
Find Tina on Facebook at: https://www.facebook.com/Tina-Fraser-Fitness-611964735525111
Writing Workshop with Claire Miller
Claire Miller is a Milton of Campsie author who has created a writing workshop video for Campsie Fest. Find out more about Claire and watch her workshop below:
"Hello my name is Claire Miller. I am a published author of three children's books, Pure Human City, I Can Create Stories and I Can Create Stories (Story Edition).
I have been writing seriously since 2001 and now have the greatest pleasure to run writing workshops for children. I love seeing children having fun and gaining confidence in their abilities through story creation.
I have free downloadable activity sheets at the bottom of the Books page of my website http://www.clairemillerauthor.co.uk. Please use them to create your own stories.
Please get in touch with me at info@clairemillerauthor.co.uk if you have any questions about writing.
Enjoy creating your stories!"
Find Claire on Facebook at: https://www.facebook.com/ClaireMillerAuthor
How to Play the Violin with Catherine James
Catherine James is a violin and piano teacher living in Milton of Campsie. She has created a series of two videos on 'How to Play the Violin'. In the first of these videos, Catherine will tell us about the violin and how to hold it as well as showing us how to do a simple plucking technique.
We also want to give a big thanks to Tallulah for assisting Catherine in these videos!
If you or someone you know is interested in getting music tuition, please email Catherine at kittylein9@gmail.com.
Make your own Hosepipe Horn at home, with Sue Baxendale
We are incredibly pleased to be working with local musician Sue Baxendale who has created two music videos for Campsie Fest.
The first of these videos is "How to Build (and Play) a Hosepipe Horn – with Sue and Magnus". In this video, Sue, and her student Magnus, will tell you a little bit about the horn and show you how to build and play your own horn using a hosepipe!
Sue has kindly left some mouthpieces in Milton of Campsie Post Office so if you are interested in making your own horn with a mouthpiece, please feel free to go and pick one up!
Scenes from Milton of Campsie, a musical performance accompanied with visuals
Our second video from Sue Baxendale is a musical performance. In this video, Sue plays a great rendition of Bernhard Krol's Laudatio for Solo Horn.
This music is accompanied by beautiful photographs of the Milton of Campsie area from local photographer,
Andy McKay.
A big thanks to both Sue and Andy for making this wonderful video!
Find Andy on Facebook and Instagram @andymckayimages
All images copyright © 2020 Andy McKay All Rights Reserved
---
Sue teaches horn at the Royal Conservatoire of Scotland (Junior Conservatoire) and at the Music School of Douglas Academy. She is also the Principal Horn of the Orchestra of Scottish Opera as well as the freelance project manager and producer for McOpera, amongst other organizations.
If you would like to contact Sue, please call her on 07791332420.
Check out Sue's Videos below:
Various Techniques of Singing with Lydia De Rosa
This is a fab tutorial from Glasgow based singer Lydia De Rosa and she will be teaching various singing techniques!
Check out Lydia's video below:
Free Creative Photography Lessons for 50+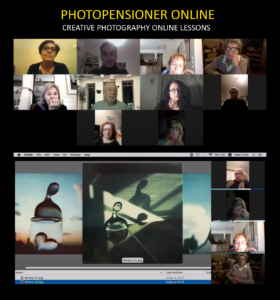 As part of our extended Campsie Fest activities, we are running a series of interactive, one-hour creative photography webinars with a professional photographer, for 50+ ages.
The online lessons will run from 13th August – 8th October, every Thursday @ 7pm.
The lessons will be made up of a series of creative photography webinars. They will provide participants with a better understanding of photography, drawing inspiration from great photographers.
Participants will become creators of their surroundings, as from lesson to lesson, they will begin to understand the world better, create unique photos, share ideas with the photography group, and make new friends. At the end of these lessons, the photography group will create a digital exhibition together that will be presented online.
There's no need for special equipment, apart from a PC or laptop and cell phone with a camera.
Limited spaces are available, please register your interest for this workshop through the Eventbrite link below as soon as possible. After registration, you will receive an email with workshop links and instructions.
The group will communicate throughout the week via Messenger and Facebook.
To sign up for the photography lessons, click the link Below:
https://www.eventbrite.co.uk/e/photo-pensioner-a-virtual-creative-photography-class-for-50-tickets-114463663900