Campsie Contributors & Performers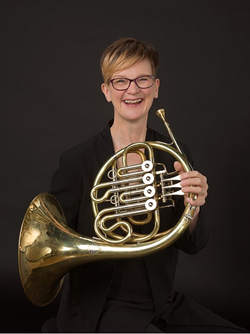 Sue lives in Milton of Campsie with her musical family, Peter Kemp (Music Therapist, teacher, composer, and viola player) and children Emily (soprano) and son Euan (saxophonist and singer), all of whom have contributed to the musical life of this village and locality since moving here in 2001. Sue is the Principal Horn in the Orchestra of Scottish Opera and freelances with the other orchestras in Scotland. She dedicates much of her time to musical education and outreach and combines positions as horn tutor at the Royal Conservatoire of Scotland and the Music School of Douglas Academy with being a freelance Project Manager for McOpera (like-minded musicians from Scottish Opera), the Lammermuir Festival and the Scottish Chamber Orchestra amongst others. The Baxendale/ Kemp family has always loved being a part of the creative community of Milton of Campsie and of East Dunbartonshire.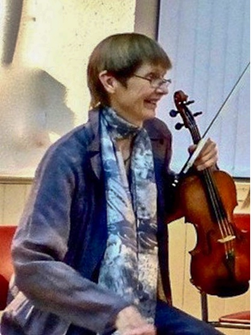 Sieglinde Bucher-Roelcke
Arts Exhibition organizer
Involvement with Milton of Campsie Art & Music Festivals:
Violin teacher – encouraging students to participate at the "Young Folks on Stage" concerts
Violinist – performing in the chamber music concerts and organizing them
Artist – taking part in the art exhibitions and organizing them
My ideas:
Everyone has musical and artistic potential.
The main aim of learning an instrument is to share the joy of music with others.
Classical music and visual arts are beneficial for brain development and wellbeing.
I want to make classical music accessible to everyone. Therefore, our concept in programming the chamber music concerts, is to break down the program in short, easily digestible pieces featuring music variety, both in style and instrumentation, rather than playing two or three complete long pieces.
Everything is connected. All my actions have influence on someone/something else. Which is why I love interdisciplinary performances, the presence of visual art while playing/listening to live music.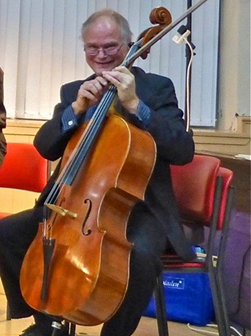 Götz Bucher
Chamber Music organizer
Involvement with Milton of Campsie Art & Music Festivals:
Cellist, performing in the chamber music concerts & helping to organize them –
Helping with the art exhibitions
My background: I'm an academic in chemistry, working at the University of Glasgow. In my spare time, I love playing the cello – leading the cello section of the Helensburgh Orchestral Society, and (at least in non-Covid times…) I regularly play in Amicus Orchestra (Glasgow) and Scottish Sinfonia (Edinburgh). I love sharing music with others, and I hope to make them happy while listening.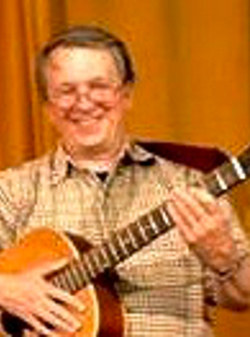 Neil Simpson
Treasurer and Folk Music performer
Neill plays contemporary and traditional folk music on acoustic guitar. He was introduced to music at primary school by an enthusiastic teacher who enabled every pupil to learn recorder and to read music. He has retired from medical practice and completed an Open University degree. He is dismayed by the inadequacy of the response of governments (large and small) to the climate emergency. He is developing proposals to help residents of Milton of Campsie reduce their reliance on natural gas for heating, aiming to create a local heat network. Meanwhile, he continues to perform with the Campsie Scottish Folk Players and to assist with Campsie Fest events.